Visiting KIRIN Beer Factory in Yokohama (by ferry…)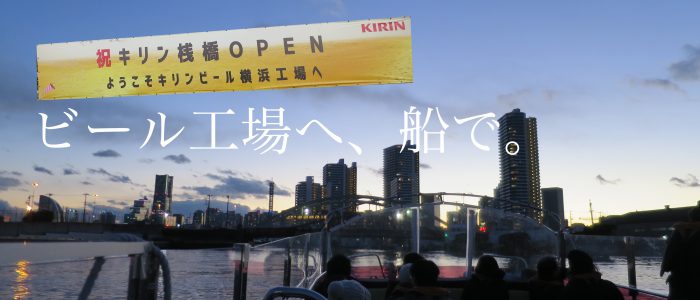 English (United States)
简体中文
To beer factory!
Hi, Naoya here, I started working here in Yokohama Central Hostel from January 2017.
This hostel is located in a 6 minutes distance from Kannai station by foot.
Famous touristic places such as Yamashita park, China town, Minatomirai are also in walking distance from our hostel, which is why many guests choose us as a base camp for travelling around Yokohama.
Working in a hostel like that, I thought it was necessary to know more about the area, yes, YES.
Thus I went and checked out KIRIN Beer factory which had been my dream land for long.
I used a ferry tour by Keihin Ferry (京浜フェリー) this time.
http://www.keihinferry.co.jp/recommend/kirin_beer/
The tour takes you from Zou no Hana Park (象の鼻パーク)to KIRIN Beer factory go and return and gives you free admission for the factory and 3 cups of free beer (It anyway is free, though), just for 1,500 YEN.(1,000 YEN for kids)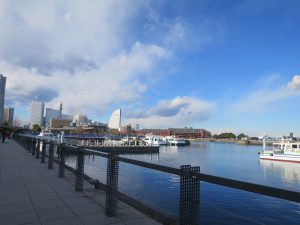 It was cold outside, but the air was clear, which made the view so beautiful from the port.
It is roughly 10 minutes by walk from our hostel to the park.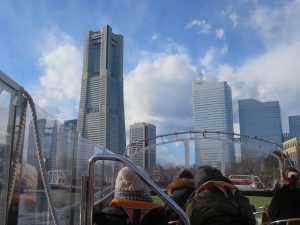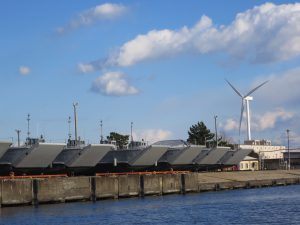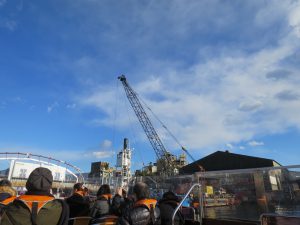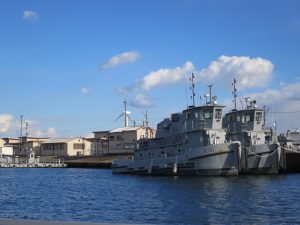 Although the guide only speaks in Japanese (and it's pretty funny, unfortunately) it's interesting just to see around the Yokohama Port on a ferry. It allows you to see the US Military facilities as above too. The guide says there is no other ferry which comes to that point in Yokohama Port. It was nice view, indeed.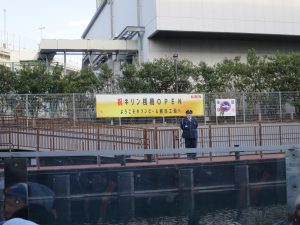 And here we are, KIRIN beer factory!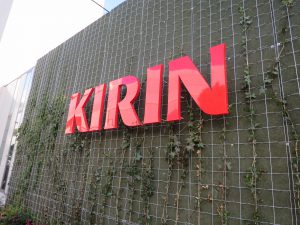 First, we get a pamphlet and a badge to enter. Not in the photo, but we also get a free can of beer.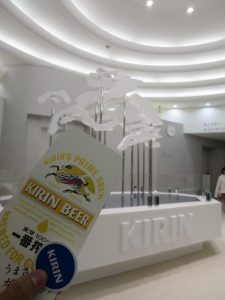 Exhibition already begins.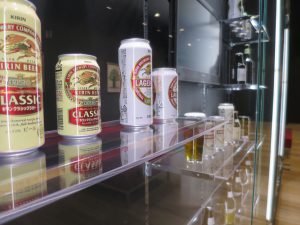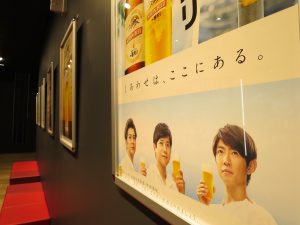 「しあわせは、ここにある。(Shiawase wa koko ni aru)」= "Hapiness is here."
I had been looking for happiness for long time, and finally got a chance to get it.
The tour begins with a movie that explains history of the factory, then a guide lady takes us to other spots.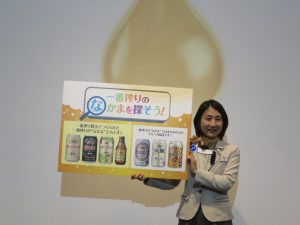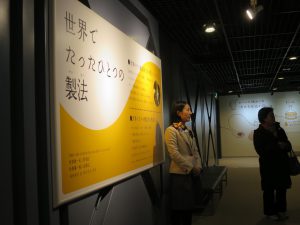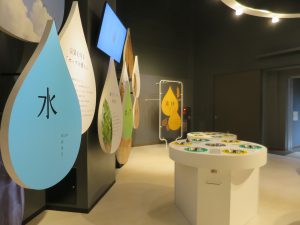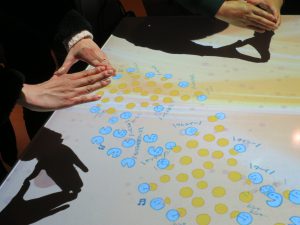 You can also eat raw malt, and smell a hop grain.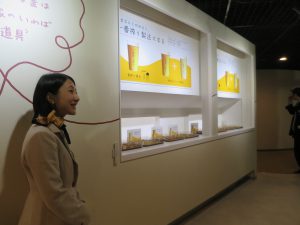 Then you can also try 「一番搾り(Ichiban-Shibori)麦汁」 = First squeezed malt juice
Ichiban-Shibori 一番搾り is a flagship bland of KIRIN beer, which is very popular in all over Japan.
I also like this beer and it was an interesting experience to taste the original juice of it. It was by the way, so good that I even thought it could be sold as it is.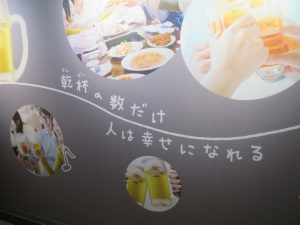 There  I found a poster says 「乾杯の数だけ人は幸せになれる(Kampai no kazu dake hito wa shiawase ni nareru) = "The more you drink, the happier you will be. "
Ok, now I know how to be happy, yay!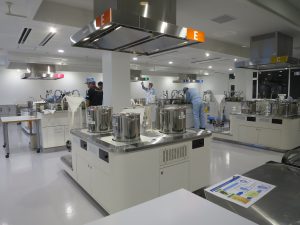 After watching bottling process and so on, finally, beer tasting time!!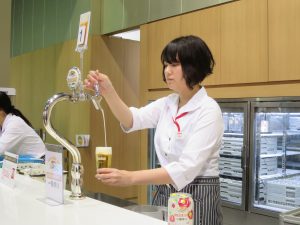 The way they pour beer into a glass is such a beautiful thing to watch…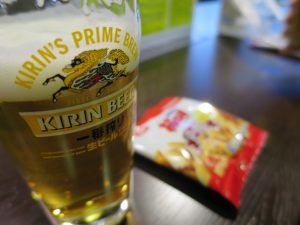 Tada, here it is, Ichiban-Shibori. You can also have a free snack too. (It was only a small pack though)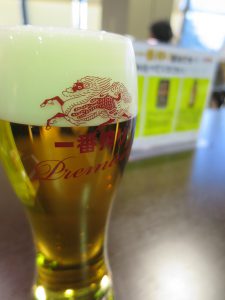 You can also try another beer like this.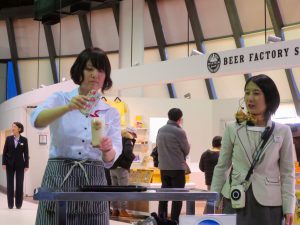 I was drinking while listening to a girl explains how to pour beer into a glass to make it taste better, but the time has come, so I got out of the factory without receiving a third happiness in a glass.
There are also soft drinks, fruit juice and tea, for children and those who don't drink.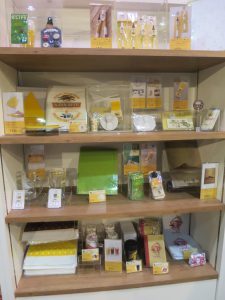 You can buy some souvenir at the shop as well.
As we return the same way we came by ferry, it was dark outside and night view was gorgeous.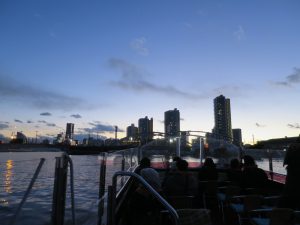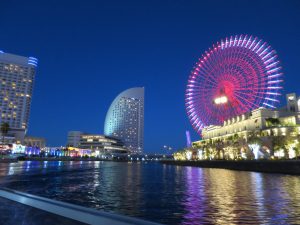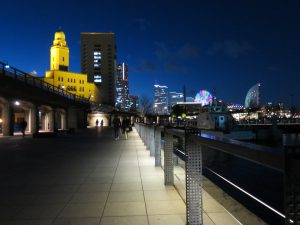 ※
Actually the factory tour itself is for free anytime, (reservation needed from the official website or by phone) of course you can drink all the beer for free too.
However, it is also good to go by ferry, half drunk and watching night view of Yokohama. I think it is a good value, for 1,500 YEN.
KIRIN beer factory is located near Namamugi生麦 station (Keikyu line), or Shinkoyasu新子安 station (JR line).
If you're coming to Yokohama, it would be a good idea to visit KIRIN beer factory by ferry.
From Yokohama central hostel, it's very easy to get to the departing point. If you stay at us, we can also help you to get there and make a reservation etc.